When a season of life is completed, it's only natural to look back on it and reflect to pull some lessons from the past to figure out what worked and didn't work.  Where you could have done more.  When you gave it your all. When you accomplished your goals.  When your goals were set higher than you landed.  When you were surrounded by those that you love.  Where you hit rock bottom.  When you were on cloud nine.  It's amazing to think that all of these highs and lows can happen in such a short period of time, but everything happens for a reason so that we can learn from it and end up smarter and stronger.
Here are just a few things that I learned in 2013, my rookie season of racing professionally:
1.  Don't let others intimidate me – My first race of the season was Panama 70.3 in February.  I went to the race with very little confidence.  The pro start list had been mailed out and there was a power house of athletes there.  I immediately ruined my chances for a good race by comparing myself to people that have been very successful triathletes for several years.  I remember sitting in the pro meeting looking around and asking myself, "Why am I even here?  This is ridiculous!"  When that thought entered my mind, I lost all hope for a good race.  At the swim start, I had the thought enter my head again.  Long story short, I didn't perform well.  My mind had over powered my body and it was a long day on the race course.
It wasn't until June when I raced the 70.3 in Raleigh that I realized the perhaps one of the reasons I wasn't hitting my goals this year wasn't a physical issue (since I was hitting the numbers in training) but a mental issue.  The night before the race, my home stay (Brooks Doughtie, a local coach in Raleigh) wrote me a letter before going off to the NCS triathlon practice and left it on the dining room table.  He wrote several things in that letter that I will always remember.  Some of the things I took to heart that he suggested I do is get a mantra to repeat in my head when negative thoughts creep into my head.  He also told me to race til the finish.  You never know what is going to happen to the people in front of you.
That night before falling asleep, I had a mind shift.  I was going to whisper a mantra that would promote positive thinking and race as if I was on the cusp of being in or out of the money.  Long story short, it worked.  I landed my first podium and pay check as a professional triathlete.
2.  Sometimes it's okay to break the rules – Up until this year, I was focused on racing and training.  I wanted to minimize my stress.  So that meant no girlfriend.  I also had a rule of never to date anyone that I worked with.  Well, both those rules were broken.  The added support that Leslie gave me on top of what was already there from my family and friends pushed me to train harder and race better.  She came to 4 of my races, and three of them I ended up on the podium.  As cliche as it sounds, having her there made a big difference.  After all, I didn't want to embarrass myself.  Next year, however, I won't have a girlfriend waiting for me at the finish line.  We got married on Nov. 3rd!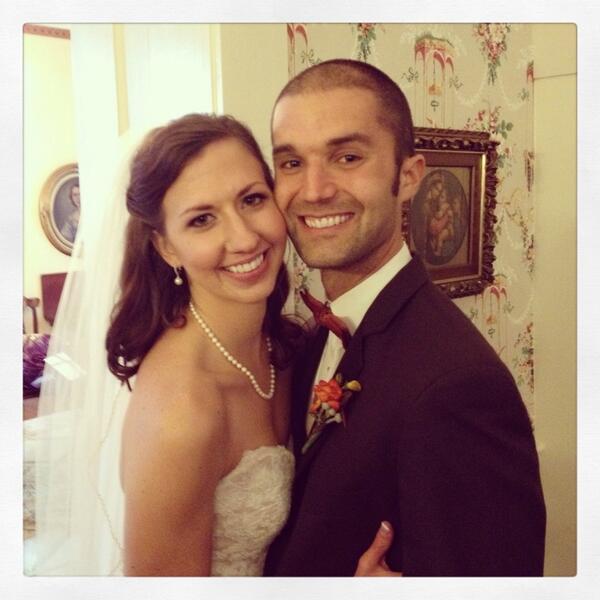 3.  Never take anything for granted – This summer was incredible.  Everything was falling into place perfectly.  Training and racing was going well, I got engaged in July, my coaching business was doing well for it's first year, and I was already getting calls for next season without spending a dime on advertising.  Then the unthinkable happened.  I lost my real job.  A lot of uncertainty followed.  How will I be able to race?  Will I have to give it up?  How will I pay bills?  What will people think?
I went through a lot of growth.  I did a lot praying and reading of the Bible.  God made me realize that everything was going so perfectly because of Him.  When I stood back and looked at what was going on, I remember thinking that I was invincible and nothing could bring me down.  Well, I was wrong.  Everything I knew was falling apart around me.  Thankfully, God gave me a different job that is less stressful, a consistent schedule, and doesn't take up an entire day when I work it.  Since my two work days now start at noon and work til 10 pm, I have all morning to get a long training block in if I want before going into to work.  And since my second day is always right after the first, I just take that day as a recovery day and sleep in and do some work on my coaching or something before going into work.
Even though it was a tough situation, God worked it out for the best
4.  Sometimes Less is More – I have written a few blogs on this subject recently, but I am now a believer in high intensity strength training programs.  This year I saw the biggest gains I ever have.  My coach had me doing frequent high intensity training up until the last few weeks before IM Louisville.  I also was doing high intensity boot camps at a local gym, Pure Fit.  A balance of these two things, I believe, was another key to the success I had this season.
5.  Sometime More is More – After looking back on my races, I realized that one of the biggest things I needed work was my swimming.  The swim is of utmost importance in the professional field.  If you have to fight all by yourself in a 56 mile bike to catch the pack and then expect to run well.  So, I started swimming about 3 times a week with a local swim team called Lakeside.  They have kids from elementary all the way up to high school.  Over the years, they have produced some Olympic Athletes… so you know that the coaching is good.  Since I started swimming there, my workouts went from ranging from 3000-4500 meters up to about 5500-6000 meters.  The extra time in the water has helped, but the coach has also helped with my technique.  So far, after a couple months of work, I'm swimming my 100 meters about 4 seconds faster!   This should be a game changer in 2014
6. Listen to the body – In the past, I would be so strict with the training program, that I would drive myself into the ground by the time my A race came around.  I was mentally and physically exhausted.  This year, I took a different approach.  I listened to my body.  If I felt overtrained, I skipped the workout.  If I couldn't hit the intervals because of  fatigue, I canned it and rested.  Instead of digging a hole and being tired all the time, I would take the down time to eat and rest.  Usually by the next day I was feeling better and back at it.
This, of course isn't an exhaustive list of things learned, but I think I hit the major ones.  I hope everyone can learn from mistakes and successes and have an even better 2014 season!